Huawei nova7 Pro review: chase focus dual camera blessing, selfie artifact in the 5G era 50x zoom lens  40w ultra fast charging
Huawei nova 7 Pro.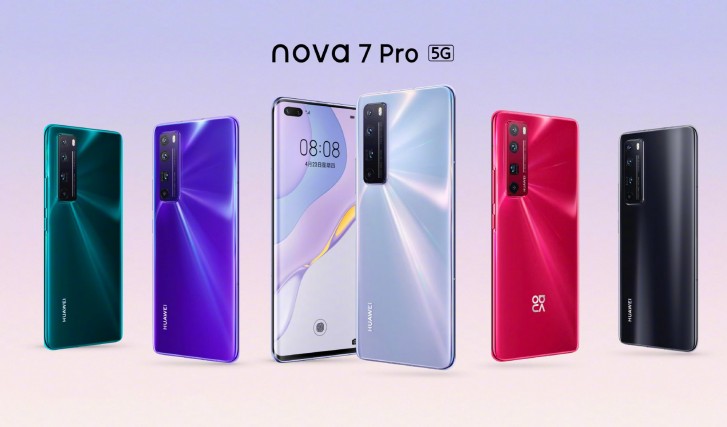 In the 5G era, with the increasing popularity of short video applications, the industry generally believes that video shooting, especially selfie videos, will become the first 5G application scenario to burst. Unfortunately, there are still very few 5G products for selfie videos. To this end, Huawei launched the 5G selfie video flagship Huawei nova7  Pro. So today, let us take a look at  what are the highlights of Huawei nova 7 pro.
32000 million pixels chase – Top selfie
Since it is a product that focuses on selfie videos, we need to first talk about the selfie performance of Huawei nova7 Pro. In terms of hardware parameters, Huawei nova7 Pro is equipped with a front-facing 32-megapixel dual-focus camera, consisting of a 32-megapixel high-definition main camera + 8-megapixel ultra-wide-angle lens, supporting precise eye tracking, new portrait super night scene 3.0, video Beauty and screen ring fill light functions.
The front-end 32-megapixel high-definition main camera ensures that the Selfie proofs can retain enough details, and cooperate with Huawei's leading AI beauty algorithm to bring a more natural beauty effect. Of course, the beauty effect is also applicable in the selfie video. In addition to AI beauty, Huawei nova7 Pro also uses industry-leading AF (autofocus) main camera, Closeloop motor autofocus, powerful AI computing power of the chip and advanced eye recognition algorithms to bring facial focus Accurate eye tracking focus.
Compared with the fixed-focus front camera of ordinary mobile phones, Huawei's nova7 Pro's 32-megapixel dual-focus tracking dual-camera can always maintain precise focus on the human eye as the core, even when the distance is close and the self-timer picture is doubled. The details of the eyes are still clear. With the advanced AI beauty algorithm, users can have a more eye-catching look and achieve the effect of "bring your own beauty contact lenses". Even if you shoot casually, it can be clear and moving.
  The appearance of the eye tracking function makes the user no longer limited by the distance when taking a self-portrait video. Huawei nova7 Pro can take clear makeup details when shooting at close range, and can take a full-body shot clearly at long distance to achieve the effect of clear distance .
Huawei nova7 Pro pre-shooting
The highly acclaimed portrait super night scene mode is also not absent, this time it is upgraded to version 3.0. It is not only optimized for the skin color of portraits, but also can realize the anti-reflective function of the glasses. The portrait super night scene mode can also make the main character more prominent, avoid overexposure, ensure rich details of the ambient night scene, and reduce noise in the dark.
Huawei nova7 Pro's 8-megapixel 105° ultra-wide-angle lens can bring twice the viewing area of ​​the 78° lens. Huawei nova7 Pro can easily cope with whether it is a multi-person co-shooting at a party or a large-scale selfie with a combination of people and scenery. It is worth mentioning that Huawei nova7 Pro is aimed at the problem of easy distortion of ultra-wide-angle selfie images. It uses the AI ​​engine for semantic recognition, and uses distortion correction algorithms to process portrait subjects and backgrounds respectively, so that the two appear more natural.
Huawei nova7 Pro front selfie proofs
  For Selfie video, Huawei nova7 Pro allows users to enhance the brightness of the recorded video through the screen ring fill light while retaining the leading AI beauty function. Whether it is day or night, outdoor or indoor, holding Huawei nova7 Pro can accurately record the beautiful selfie time.
Huawei nova7 Pro 64 megapixele A I  four proactive, full-featured Cameras
The front camera is already excellent, and the rear camera is equally outstanding. Huawei nova7 Pro is equipped with a rear 64-megapixel zoom quad camera, consisting of a 64-megapixel main camera + 8-megapixel ultra-wide-angle lens + 8-megapixel periscope telephoto lens + macro lens.
The 64-megapixel main camera ensures that the proofs have enough detail, even if the part is enlarged, it is still clear. In the dark environment, the 64-megapixel main camera also supports 4-in-1 pixels, which can increase the pixel's photosensitive area and improve the ability to take pictures in the dark environment of night scenes.
The 120° ultra-wide-angle lens, with its larger viewing range, can better adapt to scenes such as wide scenery, architectural attractions, and group photos of many people. Similar to the front selfie, the Huawei nova7 Pro rear ultra-wide-angle lens also supports advanced distortion correction algorithms, effectively solving the problem of edge deformation of the edge proofs, and bringing more natural and real images.
With the rear-mounted 64-megapixel outsole sensor, Huawei nova7 Pro can obtain a pure and transparent picture at night and retain rich details. The rear video also supports shooting in low-light environments. With Huawei's dual-domain joint noise reduction technology, the video noise reduction capability can be increased by 20%. The video shot in low light is still clear and full of details.
Huawei nova7 Pro rear shooting proofs
  Huawei nova7 Pro also supports the super night scene mode. With the help of long exposure + intelligent multi-frame synthesis, combined with the SLR-level BM3D algorithm, it can effectively suppress noise while ensuring more picture details, presenting a clear and pure night scene proof.
The rear 8-megapixel periscope telephoto lens supports 10x hybrid zoom and up to 50x digital zoom. With the help of optical image stabilization and a new generation of electronic image stabilization technology, the stability of the Huawei nova7 Pro's rear telephoto lens has been greatly improved, and the rate of one-time film formation has been improved. In addition, Huawei nova7 Pro has introduced a new generation of AI algorithms, which can optimize orientation during rear-facing shooting to improve the clarity of photos of people and text scenes.
In order to bring more creative video shooting gameplay, Huawei nova7 Pro introduced the front and rear dual scene recording function, with the help of front and rear dual lenses to achieve double-sided recording. Whether it is a beautiful photo of ourselves and the scenery during a trip, or the moving moment of giving a gift to a loved one, the front and back dual scene recording function can help us clearly record the beautiful life, leaving no regrets, and making memories more exciting.
Huawei nova7 pro Peak value, trendy personality.
"High-looking" has always been one of the DNA of Huawei's nova series, and Huawei's nova7 Pro has taken it a step further, becoming a thin and light 5G mobile phone with "beauty and body".
Through continuous exploration, Huawei's nova7 Pro has successfully achieved streamlining in terms of chip and structure, and finally achieved the goal of only about 7.98mm at the thinnest part of the fuselage and only about 178g in weight. Compared with a lot of 5G mobile phones that weigh 200+g at all times, Huawei nova7 Pro is considered a thin and light power group. Of course, with the front and rear hyperboloid design, the grip of the whole machine is improved. The hand feels light and the grip is excellent. After experiencing it, I really can't go back.
In terms of appearance, Huawei nova7 Pro offers five new colors, No. 7 color, beautiful forest, midsummer purple, honey red and bright black. Among them, the No. 7 color adopts the third-generation brand-new upgraded "dual-mode dual-plating" process, which combines two layers of special color light effect membranes and multilayer nano-scale membranes to superimpose a high-quality texture with transparent colors. Qijing Forest and Miyu Red also introduced new color film technology to further enhance the light luxury quality of the whole machine, allowing Huawei nova7 Pro to break through the functional limitations of mobile phones and upgrade to a fashionable single product.
The front of Huawei nova7 Pro is equipped with a 6.57-inch 19.5:9 FHD+OLED curved screen with a resolution of 2340*1080, supports DCI-P3 wide color gamut, and supports Huawei's "Film Tone" technology. The technology supports the HDR10 resources of video sites such as iQiyi, Tencent, and Youku, and can bring enjoyable viewing effects. Of course, the Huawei nova7 Pro screen has also passed the German Rheinland global eye protection certification, and the effect of comfortable eye protection is better.
In view of the characteristics of the OLED screen, Huawei nova7 Pro also supports screen fingerprint recognition technology. While the recognition speed is improved, it also provides a variety of unlock animations to choose from. Even the simple unlocking animation is very interesting.
Kirin 985  5G  SoC , surging performance
Huawei nova7 Pro is equipped with Kirin 985 5G SoC, bringing a faster, more stable and smarter 5G experience.
In terms of specific configuration, the Kirin 985 5G SoC uses an 8-core architecture of 1 super large core + 3 large cores + 4 small cores, equipped with a newly upgraded 8-core Mail-G77 architecture GPU, bringing flagship performance. Even in the face of large-scale 3D games, Huawei nova7 Pro can also support the highest definition, stable and high frame rate operation, and the experience is excellent.
The NPU performance of the Kirin 985 5G SoC has also been upgraded, with more powerful AI computing power. In the test of ETH AI-Benchmark, an authoritative testing agency for AI, AI ran a score of 70522 points. As a reference, the Snapdragon 865 model scored about 37,000 points, far ahead of competitors. In addition, Kirin 985 5G SoC also introduces flagship ISP 5.0, which greatly improves the efficiency of Huawei nova7 Pro's photo and video processing.
As a 5G SoC, the 5G performance of Kirin 985 5G SoC is also worth mentioning. Huawei nova7 Pro not only supports SA/NSA dual-mode 5G, but also supports six major 5G frequency bands with comprehensive coverage. In addition, in scenarios such as getting out of the elevator and getting off the plane, the Kirin 985 5G SoC can search and connect to the 5G network faster, and the power consumption control is still very good.
Huawei nova7 Pro 4OW Ultra Fast Charging
For the battery life, Huawei nova7 Pro is equipped with a 4000mAh large-capacity battery and supports 40W Huawei super fast charging technology. It can charge 75% of the power within 30 minutes, ensuring that the mobile phone is always online and the battery life is lasting.
to sum up
As a 5G selfie video phone, Huawei nova7 Pro not only has leading selfie performance and stylish design, but also has an outstanding 5G experience. It is a model of technological aesthetics "born for beauty" and the first choice for young people. . In the 5G era, if you want to choose a selfie flagship that "can play and watch", Huawei nova7 Pro should not be missed.
Operating System: Android , Andriod 10 
   CPU:HiSilicon Kirin 985
Running memory:8GB
  battery capacity:4000mAh
Charging:40W
  Screen size:6.57 inches
User rating:

4.1